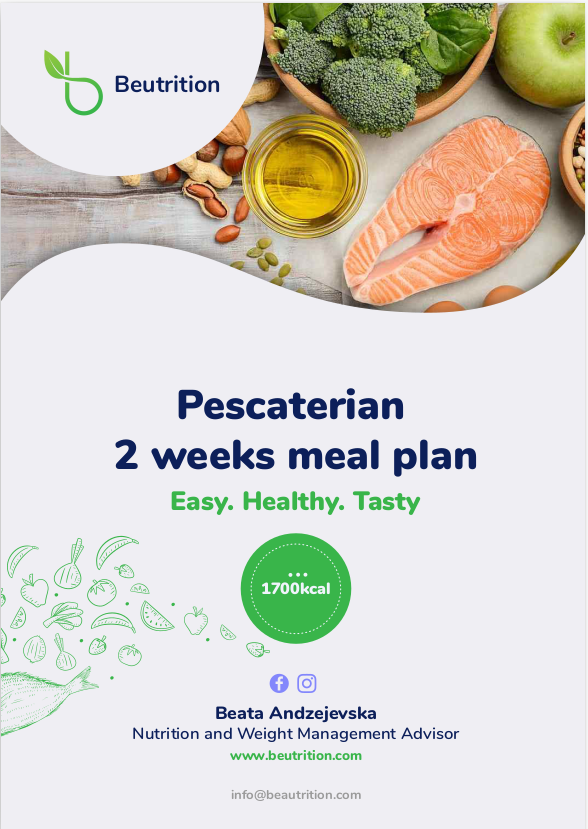 Pescatarian Meal Plan 1700 Kcal
What are you getting?
14 days of balanced meatless eating plan with detailed recipes in a form of pdf
Short introduction about pescatarian diet
Separate grocery list for each week
Product replacements suggestions
Buy Now
Description:
This meal plan is for you if: you were thinking about giving up on meat for a bit, you like fish and seafood, you would like to include more fruits and vegetables in your diet but have no clue how to prepare them, you like quick, easy and healthy recipes. It's also essential for you to care about the environment, follow a zero waste principle, reduce waste food and definitely follow a diet that is properly balanced - I have a great ready solution for you!
How this eating plan looks like?
Each day has 4 meals (Breakfast, Snack, Lunch, Dinner)
For your convenience there are sweet and not so sweet breakfast options that you can replace between days
Snacks and Lunch meal are normally done for 2 days, so you save time on cooking
All meals are quick and easy to cook, so you don't require any sophisticated cooking skills
What are the benefits of this diet?
Timesaver

- you don't have to look for recipes and wonder what to have for lunch today

Money saver

- in this meal plan, I tried to reduce the amount of food waste as much as possible so be sure that everything you buy will be used up! Everyone knows that unorganised shopping comes up to be more expensive.

Accessible

- All products are available in most grocery shops all year long so you don't have to worry about any special ingredients

Nutritious and Balanced diet

- although this meal plan eliminates meat products, you will not miss out on vital macro and micronutrients. After all, not everyone is a nutritionist and doesn't have to know how to combine products :)

Flexible

- each day has a similar energy value so it's easy and convenient to swap meals around to make it fit your daily routine.
What are macros in this plan?
Macro distribution throughout the days are: Carbohydrates 50-55%, Protein 10-15%, Fat 30-35%.
What if I don't like some ingredients?
For your convenience replacement product suggestions are included in the meal plan. Also as individual plan days have similar energy distribution you can swap the less liked meals to your favorites.
What are the drawbacks of this diet?
This meal plan is not personalised to everybody's taste preference. Not everyone is a fan of pasta, porridge or salmon dishes that are included in this meal plan. It's also not suitable for people suffering from food allergies and intolerances. You can of course modify the recipes to suit your health condition, however it will require from you extra work.